I'll start this piece first by saying that I do not believe that DeMarcus Cousins will be in a Wizards uniform at any point in this NBA season, or any NBA season for that matter.
This also isn't the first time the topic has been written about, as you can see from this good read from our friends at WizOfAwes. This also isn't based on breaking news or anonymous sources, but solely on a few hot takes of mine: the Wizards lack the assets to make a trade like that; my belief that the current GM is unable to pull off a superstar deal like that; and the simple fact that this is D.C., and if you're a D.C. sports fan you know we don't typically get nice things around these parts.
However, 'tis the season of giving and with Christmas right around the corner, if the Wizards wanted to reward their ridiculously loyal fan base – err, those of us who remain – then perhaps they can figure out a way to stop throwing away valuable years of John Wall's career, accepting mediocrity and live a little dangerously.
Even at the cost of whatever player may be on the roster now or down the line (draft picks) for that matter.
I know, all the 'smarter' basketball people are going to jump on me now because Cousins has a temper, and combine that temper with John Wall's temper and the Wizards are likely to lead the league in scowls and technical fouls. Or I'll get beaten to death with percentages and diagrams about proper floor spacing and the importance of being able to successfully execute 'elevators' coming out of a timeout.
Frankly, I don't care. Take your stats and go yap it up with someone else. I'm tired of rooting for a team that leaves me shaking my head and thirsting for more wins. I want basketball players. I want mean assholes who don't get intimidated by anyone and who will fight to win either literally or figuratively.
Get me DeMarcus Cousins and I'll go a step further and bet my home and my car that if you asked John what he'd give up to get DeMarcus to DC he'd be willing to assist with just about anything. You see what I did there, I know.
But, don't take it from me, take it from John himself…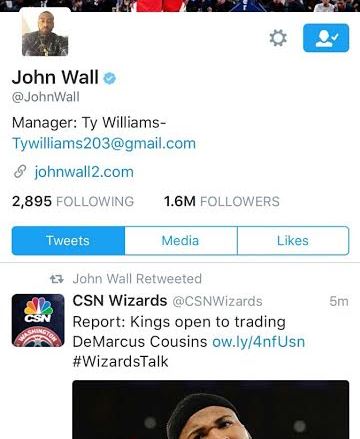 What I also know is that Wall and Cousins are ballers. They are fierce competitors and John has never professionally played with a superstar talent like Boogie and Boogie has never played with a point guard like Wall. The excitement level in this city for a dynamic duo like that would be incredible. Not to mention, how do you soften the blow of not even getting a meeting with your prize free agent target? You trade for a superstar. Duh.
How fast would the Cousins (Redskins) to Cousins (Wizards) shirts sell off the shelves?
Washington, D.C. knows all about larger than life personalities. In sports they sell, and to be honest with you, this town, this city could use an attitude like DeMarcus to help Wizards fans forget about the decades of sub-par draft picks and second and third tier free agency acquisitions that have haunted this team for so long.
A move for Cousins wouldn't even be as much about 2016-17 as much as it would be about setting up the future with a nucleus of Wall and Cousins. You could be far worse off than to have those two stars as the catalyst for a decade of entertaining basketball with the potential to attract others. How would a one-two punch of Wall and Cousins not be attractive to free agents who like to play a high tempo game, shoot three pointers and are looking to take advantage of playing in the historically playoff-friendly Eastern Conference with a proven coach like Scott Brooks?
As for the logistics of a deal? That's up to far more intelligent and business savvy folks than I to make numbers, contracts and players line up. I can assure you though that the buzz that would come with a move like that would be something the likes of which Ted Leonsis hasn't seen since the uniforms changed.
It is understood that the cost to the Wizards would be heavy. Probably to the tune of Beal, Porter and/or Oubre, perhaps even a pick, but guess what…unless you are the Spurs or any other marquee organization for that matter with stellar management and a track history of winning the only way become a great team is to take some chances and hit on them.
A trade like this would be a clear signal that the status quo will not be accepted. It would be a sign to the loyal fans that they deserve a better product and that the Wizards have a front office willing to do whatever it takes to win on the court.
But why keep typing words when I can excite you even more by showing you the physical evidence of why these two stars should be reunited for the enjoyment of basketball fans everywhere.
Friends first…
Business later…
If you're in need of a little more hard evidence and have a little more time on your hands you can also just YouTube search "John Wall and DeMarcus Cousins" and enjoy countless hours of University of Kentucky games from their year together in college. It's fantastic by the way.
I'm aware that two alley-oops and a couple of interviews where two players are praising each other doesn't prove that a reunion would work. I can also tell you a few other things that won't work. Things such as putting all your eggs into a free agency basket that was never even close to being a realistic option. Or settling for a 'let's make the playoffs' attitude.
With all due respect to the players on the current roster, two of whom I enjoy more than just about anyone I've covered in the last 8 years, it would certainly be a hell of a lot more fun rooting for a team of Wall, Cousins and whoever is left than it is to get excited for what you've seen so far from the Wizards in 2016.
Again, realistically I don't think there is any way to make this happen but it doesn't mean one cannot dream it. That said, you never know, perhaps the basketball gods will shine down upon the organization like they once did when the Bullets acquired Chris Webber. Maybe Ernie has another trick up his sleeve to ensure that he will still be the GM in Washington when my year old son reaches his 45th birthday.
Seriously though and speaking of kids, if you can trust Wall and Cousins with a baby, you can surely trust them with an NBA franchise, amirite?